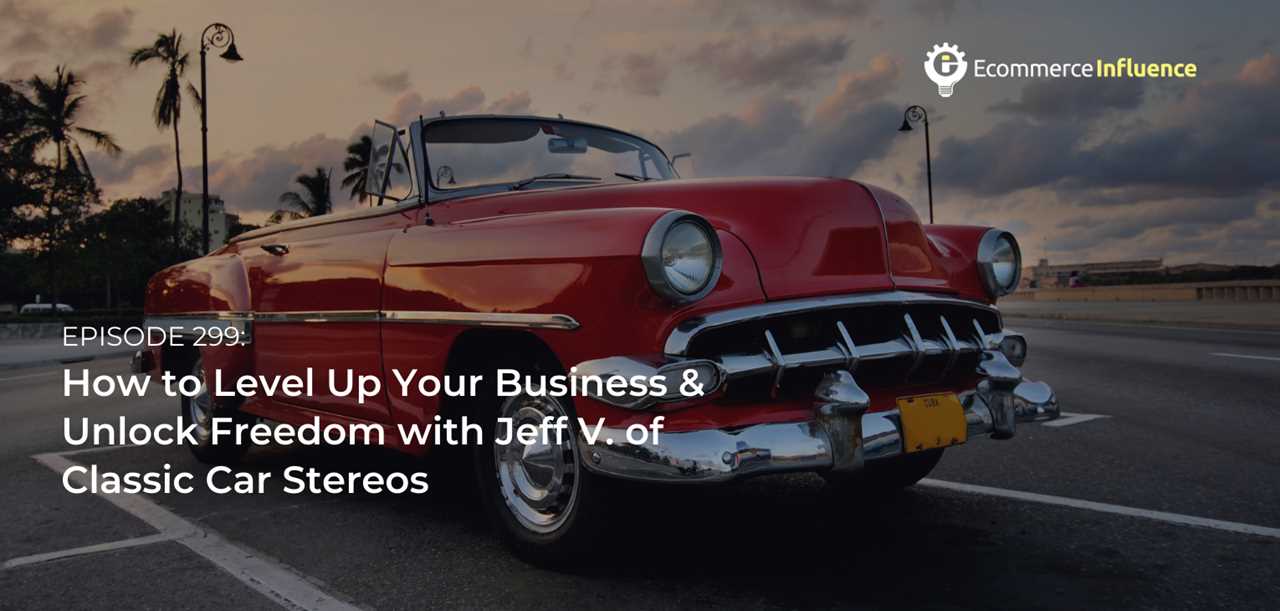 Does your business take all of your time or does it give you the freedom to do the things you love?
Jeff Vogl, president of Classic Car Stereos, has been intentional about creating that shift over the last couple of years and I've had the pleasure of seeing him do it. Jeff and I started working together in 2019. Since then, Jeff's business has grown tremendously and he's continued to add to his portfolio.

From mastering the art of creating packages his customers can't ignore, boosting his AOV, and spending more time on the golf course than in the weeds of his business, Jeff is a sharp entrepreneur and he's here to tell you how he made these big wins possible.

Tune in to learn how you can creatively increase your AOV, why Jeff believes a Google AdWords strategy is a must, the importance of bidding on your brand, and how a change in leadership style has unlocked the freedom Jeff always wanted.

Enjoy!


Episode Highlights:
4:03 Learning how to create packages to boost your AOV
6:20 How Classic Car Stereos manages all of the moving parts in their business
8:18 Jeff's journey from spending time in the weeds of his business to spending time on the golf course
10:55 A mindset shift on inventory management and demand planning
16:19 Entrepreneurial finance 101: The numbers every entrepreneur should know
25:06 Using Google Adwords and why you should always be bidding on your brand
29:12 Evolving your leadership style to empower your team
34:35 The resources Jeff uses to grow Classic Car Stereos
Links and Resources:





Sponsor: Klaviyo
Ever wish you could deliver more meaningful marketing moments? Moments that stick and last a lifetime?

Klaviyo helps you build longer-lasting customer relationships through more personalized marketing.

With targeted segmentation, email automation, SMS marketing, and more… Klaviyo helps you create your ideal customer experience.

See why Klaviyo's trusted by more than 50,000 brands, like Living Proof, Tipsy Elves, and Chubbies.

Keep your customers coming back. Get a free trial at www.klaviyo.com/influence.



Sponsor: Gorgias
Gorgias helps ecommerce brands deliver the best customer support experience to drive more loyalty, retention, and sales.

Providing fast, always-on, personalized shopping experiences has traditionally been challenging. Enter Gorgias, whose machine learning helpdesk automates up to 25% of commonly asked questions and frees up your team, transforming them from support agents into sales generators. From one single platform, brands can offer effective and fast customer support, regardless of the communication channel.

Having an eCommerce customer support solution that can field questions and resolve issues with ease and empathy is a critical piece to any store's success in 2021 and beyond.

Get your 2nd month free when you sign up at ecommerceinfluence.com/gorgias and turn your support from painful to exceptional.