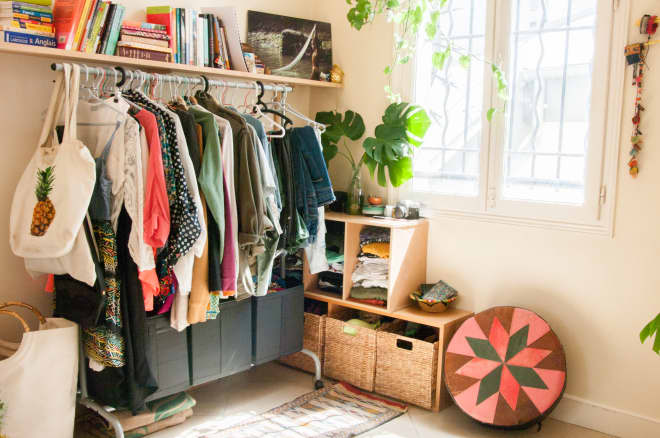 We independently select these products—if you buy from one of our links, we may earn a commission.
How's your closet looking? Mine (a small Chicago-sized closet that I'm lucky to have in such an old building) is stuffed to the gills and desperately needs organization. If you're the same way, home stagers have a few fixes. Since they're the folks tasked with getting rid of things ahead of a home sale, they know exactly what to eliminate to make a space look cleaner and brighter. 
If your closet has a light fixture in it, make sure it's up to date and functioning properly. (Evans recently worked on a home that had a light fixture dangling from a wire in a closet!) Have that fixed — and replace it with a quality fixture that provides good lighting.

Old Items and Things You Aren't UsingIt's time to really ask yourself: Why are you keeping all those clothes that don't fit? Why are you keeping that jacket your kid wore in high school but doesn't want? Purge your closet of everything you're not wearing or using.
"If you have not used an item within the past one or two years, it's time to get rid of it," Herman says. "If it happens to have sentimental value, create a bin for it at the very top of your closet or an area not easily accessible. This will eliminate clutter and that is a giant step to making your closet look more organized and neat."
Go through your belts, scarves, shoes, and storage boxes in your closet as well. If you don't need it, if it doesn't fit, or if you're just hanging onto it for the memories — it's time to go. And sports equipment should be stored in the garage or attic, not your closet.
If you've got something on the floor of your closet, put it away or throw it away. 
"Closets look better and cleaner with nothing on the floor," Monroe and Knitter say. Instead, put up shelving, add bins, or do both. And make sure they're opaque — putting things away doesn't work if you can still see the mess. The easiest fix? Your laundry basket. Ditch the old plastic one and invest in something solid with a lid.
If there's one thing home stagers universally seem to hate, it's dry-cleaner-quality wire hangers. Toss them immediately and replace them with something more uniform and stylish. Herman suggests AmazonBasics Slim, Velvet, Non-Slip Clothes Suit Hangers and grouping clothes based on activity (like work, leisure, and dress) and by color.
Monroe and Knitter use wooden or thin velvet hangers, and also "place all the clothing in the same direction and order it by color or sleeve length." Evans, meanwhile, eliminates all bulky hangers and replaces them with color-coordinated slimline hangers because "it looks better and has a custom feel," she says.
Then there are shoe organizers. You know, the ones hanging over the closet door that have the dingy pockets stuffed with dirty shoes and anything else you don't have a space for. It's best to just toss them. Get matching baskets or bins for those items instead.
"If you have items hanging over the doors or on the outside of the doors, it's going to bring attention to the closet and make it feel much smaller," Evans says.
Jennifer Billock
Contributor
Jennifer Billock is an award-winning writer, bestselling author, and editor. She is currently dreaming of an around-the-world trip with her Boston terrier.