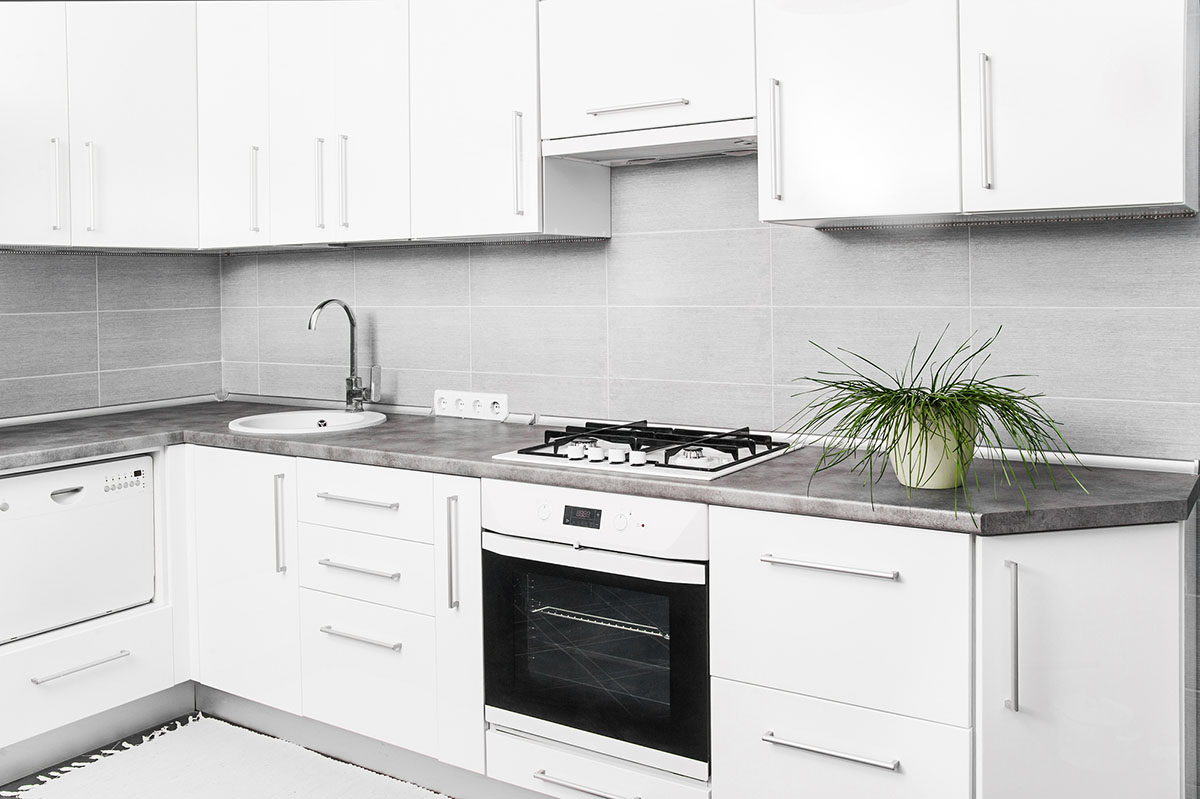 Remodeling a kitchen is one of the best ways to breathe life into a home. A new kitchen design means fresh surfaces, better workflow, and oftentimes a return on your investment. A few pieces for your kitchen remodel warrant careful consideration, especially the cabinets.
In fact, cabinets can be the most expensive element of a kitchen renovation—more expensive than countertops and flooring. Luckily, you can spend less on kitchen cabinetry. One way is to buy cabinets flat-packed, and assemble them yourselves. Some cabinet manufacturers make and ship an entire kitchen's worth of cabinets and drawers to your door, ready to assemble. For help in choosing the best kitchen cabinets to fit a limited budget, read this guide for assistance.
BEST OVERALL: Wholesale Cabinets Bright White ShakerRUNNER-UP: Kabinet King Shaker Dove Kitchen CabinetsBEST BANG FOR THE BUCK: Nuform Cabinetry Emma WhiteUPGRADE PICK: Wholesale Cabinets Pearl Maple GlazeALSO CONSIDER: Ikea KNOXHULT Base Cabinet with doors and drawerWhat to Consider When Choosing the Best Kitchen Cabinets for Budget-Minded DIYersWhen trying to keep costs down, choosing the best kitchen cabinets can be a tricky proposition. DIYers may have to make compromises in the quality of construction, materials, slides, or hardware. Deciding which factors are most important depends on the individual. The following are some of the most critical factors to consider when choosing the best kitchen cabinets.
TypeCabinets come either assembled or ready to assemble (RTA). RTA cabinets are economical, but they require more work before installation. Assembled cabinets are ready to hang right out of the box. This one difference can make a significant difference on the project's bottom line.
Also note that several types of individual cabinets are available, each of which serves its own purpose. For instance, a base cabinet is deeper than a wall cabinet, and it includes an area called a "toe kick" that allows the user to move closer to the countertop. Wall cabinets, which are shallower, are constructed to bear the weight of heavy tableware.
Additionally, a sink cabinet is available with a faux drawer front that hides the sink and plumbing. Corner cabinets, both wall or base cabinets, offer more storage space. Other types of cabinets and accessories include full-height pantry cabinets, trash and recycling pullouts, appliance "garages" to store countertop gear, wine racks, and more.
MaterialCabinet manufacturers use several different types of materials to construct kitchen cabinets. Some of the following materials are likely to appear in RTA-type cabinets:
Real wood: Genuine wood is usually reserved for the cabinet doors or face frames (the strips of wood on the face of the cabinet behind the door). Ready-to-assemble cabinets rarely are completely constructed of real wood.Plywood: Many manufacturers use cabinet-grade plywood to create the cabinet boxes. Plywood is very strong and less expensive than individual wood boards, though it has a similar appearance. When a manufacturer refers to "wood kitchen cabinets," the cabinet boxes are typically made of plywood.High-density fiberboard: Some painted cabinets use high-density fiberboard (HDF), which is a man-made product. It takes paint well and is more affordable than wood or plywood.Particleboard: Some of the most affordable cabinets are made of particleboard, a composition of wood chips and resin or glue with a laminated material on top. Although it doesn't resist water well, cabinets made of particleboard are inexpensive.Door and Hardware StyleSeemingly endless stylistic choices are available in cabinetry. Cabinet style generally refers to the appearance of the door and face frames. Popular door styles include Shaker, traditional, modern, contemporary, rustic country, and Mission. Shaker, traditional, and country may complement a farmhouse, Cape Cod, or ranch home. Contemporary or modern cabinets probably suit contemporary homes. Mission cabinets may complement arts and crafts or Craftsman-style homes.
Some cabinets have face frames, and others don't (frameless cabinets are called European-style cabinets). On some cabinets, the doors nestle into the cabinetry, creating a flush, uniform look.
Hardware to complement the cabinets is another important decision. Many people prefer to contrast light cabinets with dark-finished hardware, while others prefer brightly polished metal. Traditional country cabinets may feature wooden doorknobs and pulls.
Drawer TypeOne of the benefits of designing a new kitchen is the opportunity to customize the space to make it more functional. Many renovators add drawers, some of which are designed specifically to hold silverware, pots and pans, or other items. Vertical drawers are available that fit between cabinets to hold spices and other small items.
Though this mechanism is not easily visual, the drawer's hardware often determines how well a drawer works. Ball-bearing slides with soft-close features allow drawers to slide in and out easily and prevent them from slamming. To save money, a basic set of slides is usually sufficient, though they might not glide as easily as higher-end options.
Color and FinishThe color and finish of kitchen cabinets is largely determined by taste and budget. In general, DIYers choose one of these:
Stained wood: Stained wood has a natural appearance, but since these cabinets are constructed from only the best pieces of wood, they're often expensive. Stain options include a natural or darker stain and whitewash.Painted wood: Painted cabinets can match almost any interior design style. Moreover, because the paint is typically opaque, it can cover lower-grade wood. Painted wood cabinets are often less expensive than stained wood cabinets.Laminate: Laminate is the material that covers particleboard cabinets, and it determines their look, finish, and color. Many laminate options are available, including thin sheets of actual wood, synthetic wood, and melamine (a durable plastic material), and they're almost all relatively affordable. However, laminate is rarely as durable as cabinet paints or stains.In ready-to-assemble cabinets, painted cabinets and laminate are the most common finishes. In general, these cabinets have a better finish on the door and face frames than the sides of the boxes.
Additional FeaturesOther cabinetry add-ons are available. For instance, a strip of molding across the top of a set of wall cabinets, called a "cornice" molding, helps unify the design. Other design options include finished panels that install over the side of the cabinet to create a more finished look. Other add-ons include built-in pot racks, wine racks, wine glass holders, and glass-front cabinet doors. Some cabinets are specifically designed to house built-in ovens or beverage stations.
Installation and AssemblyMany people think that cabinet installation is a job best left to the professionals; however, with a helping hand, assembling and installing cabinets are actually relatively easy tasks. Ready-to-assemble cabinets are delivered in flat boxes, but they come with the instructions, hardware, and typically the tools needed for the job.
Installing cabinets is at least a two-person job, but the process is fairly simple. To simplify installation, clamp and screw the adjoining cabinets through their face frames before hanging them. When hanging kitchen cabinets, keep these three important points in mind:
Make sure the cabinets are level side to side and front to back.Ensure they're plumb ("level").Screw through the top support (the strip of wood along the top of the cabinet back, if one is present) and into a wall stud.Using sheetrock screws to hang kitchen cabinets is a bad idea, because with enough weight, the screw head can pull into the surface of the wood and affect its integrity. Washer-head screws, or wood screws with cabinet washers underneath, are better choices.
Our Top PicksOnce shoppers understand the basics about cabinet construction and style, choosing the best kitchen cabinets becomes a bit easier. To help streamline the kitchen cabinet shopping process, this list presents some of the best kitchen cabinets on the market. Consider cabinet material, style, drawer type, and other features when comparing them.
Photo: wholesalecabinets.us
For a custom finish in a ready-to-assemble package, Wholesale Cabinets Bright White Shaker cabinet system is constructed of ½-inch plywood with heavy-duty ¾-inch plywood shelves that can bear the weight of heavy tableware. The Shaker-style cabinet doors are made of HDF, which provides a clean finish.
Along with basic wall, base, and sink cabinets, Wholesale Cabinets offers single-drawer base cabinets, cabinets with tray dividers for cutting boards, as well as units with rollout trays for garbage cans or pots and pans. All drawers and hinges are soft-closing, which keeps the kitchen quiet.
Photo: kabinetking.com
Kabinet King's Shaker Dove kitchen cabinets feature a light gray painted finish, five-piece (two rails, two styles, and the center panel) Shaker-style doors, and a ready-to-assemble design. Also, the cabinet slides and hinges are soft-close and won't slam shut.
Kabinet King has many different cabinet configurations in the Shaker Dove lineup, including base and upper cabinets, diagonal wall cabinets, sink base cabinets for traditional and farmhouse sinks, and lazy Susans. Shoppers also can choose between solid panel doors or doors with glass inserts. Customize the kitchen even further with accessories such as wine racks, X-shape cabinet dividers, and more.
Photo: nuformcabinetry.com
Nuform Cabinetry's Emma White ready-to-assemble cabinet system offers the style of more expensive kits but uses lower-cost materials. This system features European-style (frameless face) particleboard boxes with ½-inch plywood backs. The drawers have slab faces.
The Emma White kit comes in a variety of wall and base cabinets, including sink and lazy Susan corner cabinets. Depending on their style and storage needs, shoppers also can opt for glass hangers, corbels for custom islands, and roll-out trays for pots and pans. Upgrading cabinet drawers and hardware to solid wood with soft closure is also an option.
Photo: wholesalecabinets.us
These ready-to-assemble cabinets from Wholesale Cabinets feature real maple doors with raised center panels and a beaded profile. Finished in a high-end glaze, these cabinets provide a bright, luxurious feel.
These cabinets feature all-plywood boxes with solid maple face frames; soft-close hardware adds to a high-end feel. Also, a wide variety of cabinet types are available, including standard base and wall cabinets, glass-front doors, X-shape cabinet inserts, finished cabinet sides, and more options for both large custom kitchen remodeling projects and minor renovations.
Photo: ikea.com
IKEA's KNOXHULT is a one-piece cabinet with three standard cabinets and a drawer, and both end cabinets can be outfitted with a sink and plumbing. Adjustable feet keep the unit stable on uneven floors.
The cabinet is made from particleboard with a melamine laminate, which is scratch resistant and long lasting if kept dry. The work top also is made of particleboard, with a wood laminate surface over the top. Designed so doors can be mounted in either a left- or right-swing configuration, IKEA's KNOXHULT series cabinets are compact enough to fit in most small settings. The cabinetry arrives flat packed, and assembly is required.
FAQs About Kitchen CabinetsNow that you know more about what goes into the best kitchen cabinets, some new questions might pop up. The following are answers to some of the most frequently asked questions about kitchen cabinets, so check for an answer to your question below.
Q. What are the most durable kitchen cabinets?Generally speaking, real wood is the most durable. Original wood cabinets are still being used in some of the oldest homes in the country. Plywood also is extremely durable. Both of these materials can be refinished if necessary. If they're dented or scratched, sand out the blemish and refinish the cabinet.
Q. How many kitchen cabinets do you need in your kitchen?At minimum, you need a cabinet for a sink and cleaning supplies, a base cabinet for pots and pans, and a wall cabinet for plates and cups. Large families, home chefs, and large kitchens may require more cabinets.
Q. Can I install my own kitchen cabinets?Yes, though you might want to enlist the help of a friend who can help lift and hold the cabinets in place while you secure them.
Q. Do you install top or bottom kitchen cabinets first?No hard and fast rules exist, but it's generally best to install base cabinets first. As these long banks of cabinets are rarely broken up by windows or doors, install them in place and then coordinate the upper cabinets accordingly. The other benefit to installing lower cabinets first is that you can build a small stand to rest the upper cabinets on while you secure them to the wall. As long as the lower cabinets are level, you'll have a consistent height all around the kitchen.
Q. How long do kitchen cabinets last?While particleboard cabinets might last only 10 years or so, high-quality cabinets can last up to 50 years. Some real-wood cabinetry can last more than 100 years.