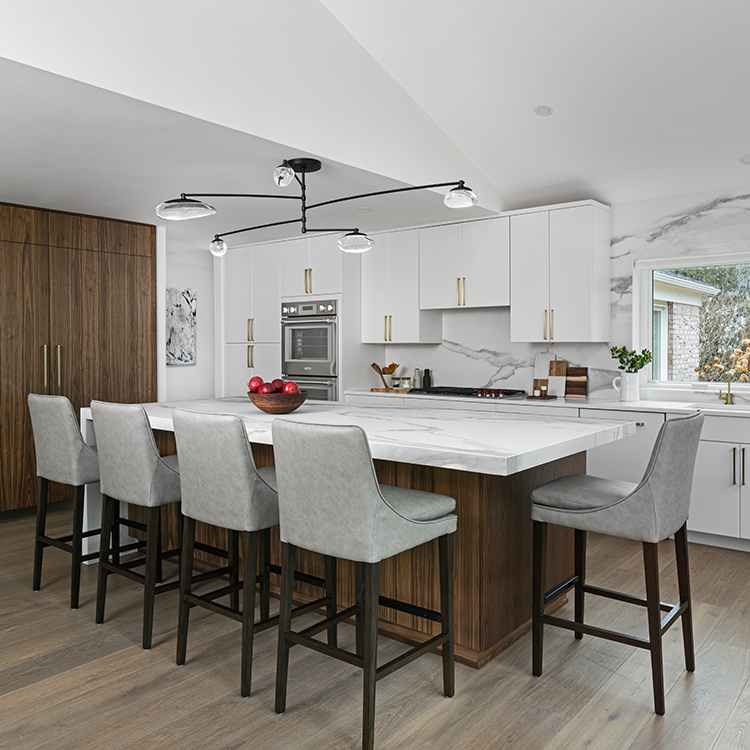 The term "modern kitchen" can summon visions of cold, simple rooms, devoid of warmth, personality or embellishments. However, the design experts at E.W. Kitchens believe minimalist and modern kitchen design can be inviting, warm and even classic.
"Modern" Kitchen Design actually started a long time agoBy definition, "modern" kitchen design started around World War I and generally incorporates flat surfaces and geometric shapes with few frills. Not surprisingly, modern kitchens are growing in popularity of late as a more streamlined aesthetic can offer homeowners more simplicity and calmness in their homes. Just ask Eli and Michele Saulson, who recently remodeled their metro-Detroit kitchen to reflect the modern kitchen style.
Having lived in their home for 20 years, the Saulson family finally decided it was time to transform their space into one that not only better aligned with the needs of their family of six but also aligned with their personal style and taste. On their wish list was a well thought-out and organized kitchen, robust and organized for an avid cook. Being big entertainers, they also desired a space that flowed openly to other areas of the home to help create a large and central gathering space.
When it came to the determining style of the space, that came easy for homeowner Michele. Despite having a degree in historic preservation, she has always gravitated towards a much more modern aesthetic. Leaning more towards clean lines, neutral tones and natural materials Michele feels "the geometry of modern design speaks to a calming, simple and elegant design vibe."

Michele pulled double duty as not only the homeowner, but also worked with the E.W. Kitchens Dream Team as the Interior Designer. Michele felt it was incredibly important to mix texture, color and surfaces in the space to avoid the space seeming two-dimensional or uninspired. Through the interplay of materials, the design delivered more depth, warmth and interest to the kitchen.
Custom pieces can bridge modern design and current lifestyleModern kitchen designs are typically known to include mostly natural elements including the oversized island, and custom oversized paneled refrigerator (designed and custom built in Walnut by Ayr Cabinetry). In an effort to keep the island streamlined, the design team opted for a custom designed c-channel pull, showcasing a "handleless" way to open the island cabinetry and keep the space a main focal point of the room.
The rich walnut cabinetry provides a stark contrast against the white slab door perimeter by Mouser Cabinetry. Another characteristic of a classic modern kitchen is a full-height backsplash, in this case with beautifully veined classic porcelain.

Completing a major renovation during a pandemic is certainly not easyAs difficult as it can be living within the renovation, the Saulson family lived through it with considerable grace. When we last checked in, the custom designed light fixture by April Wagner (Epiphany Glass) had just been installed as the final finishing touch.
As we parted ways with the family we asked them, in a space so incredible, could they share their favorite design element?
While it was difficult, it came down to the Butler's pantry. Although located to the side of the main area of the kitchen, it is still very much connected and integral to the space. After all, it does house the Saulson's coffee maker, so can we blame them?

The Dream Team at E.W. Kitchens is ready to bring your modern dream kitchen to life. For more information, check out www.ewkitchens.com.