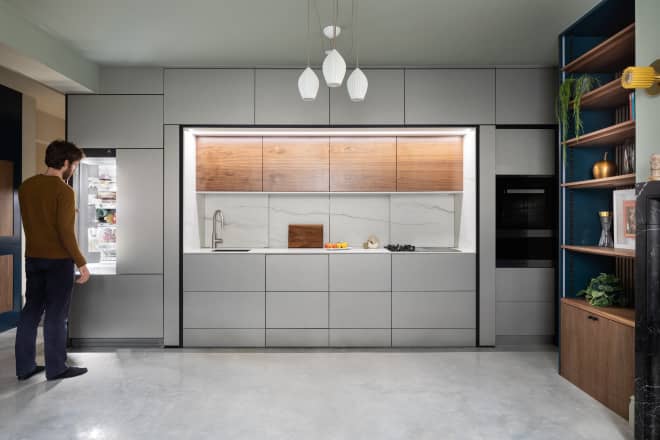 An apartment in London has found another solution for people who just can't keep those kitchen counters decluttered from snacks. Woodrow Architects has designed a kitchen area that could be hidden away behind a wall of minimalist, light gray cabinets. It could deceive guests with even the keenest of eyes: the main section — which includes a sink, counter space, a cooktop stove, lighting, and even some upper wooden cabinets — is enclosed by folding doors that could also be pushed back in and hidden into the cabinetry once opened to preserve space.
The section is flanked by integrated appliances. A wall oven blends seamlessly into its surroundings on the right side of the kitchen, while a refrigerator is discreetly situated on the left side of the kitchen. The counter space of the main section is a marble white, offering a stylish juxtaposition to the muted gray cabinets. I am now fantasizing about the bags of Flamin' Hot Cheetos and unwashed coffee cups that could be hidden behind those stylish doors.
The theme of minimalist, functional cabinets runs throughout the rest of the apartment, too. In the living room, an entire wall is taken up by navy and wooden cabinetry, offering ample storage space for open shelves and enclosed cabinets. A small fish tank breaks things up towards the middle of the cabinetry. There's also an enclosed coffee station on the right side of the cabinets, which could be hidden away when not in use.
In the master bedroom, the theme of cabinetries continues — only this time, with more design patterns. The cabinets in the master bedroom have an ocean motif, printed with crabs and fish and other underwater creatures, with brown borders that make the blush pink room pop. In one bathroom, the medicine cabinet is flanked by lush green moss, giving it the ultimate spa feel.
In sum, this London apartment is all about the cabinetries.
Jessica Wang
Weekend Editor
Jessica is the Weekend Editor at Apartment Therapy. Her work also appears in Bustle, Nylon, InStyle, Cosmopolitan, and more. She lives in sunny California with her dog.