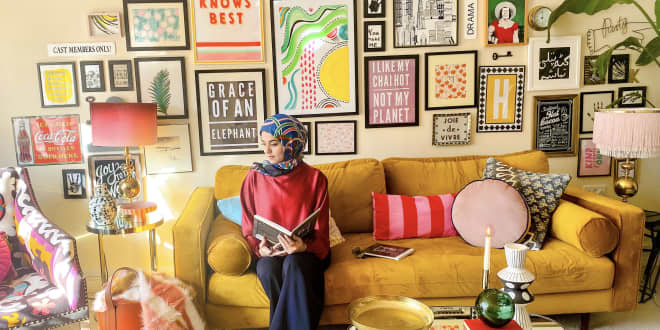 We independently select these products—if you buy from one of our links, we may earn a commission.
Name: Amara, Hasham, and Teen Z, Teen N, and little H.
Location: Berkshire, UK
Size: 1500 square feet
Type of Home: It's a four-bedroom, semi-detached house
Years lived in: 8 years, renting
I am a firm believer that everything happens for a reason. So when our previous landlord suddenly announced that he desired to move back in to our [previous] rented home just as we finished furnishing it, initially I went into panic mode. We started house hunting all over again. Being a wife of an ex-Airforce pilot, I was fairly used to the whole shifting from place to place scenario anyways.
We needed a house for a family of five and our priorities were fairly basic: a clean home with well-lit rooms, a decent-sized kitchen, at least two bathrooms, and a backyard. Did I mention everything happens for a reason? We were thrilled to find an EVEN better house in almost the same area with a family-friendly floor plan. As soon as I stepped in, I could sense a cocooning element instantly. That's exactly what we needed after our previous experience.
The layout of the house makes the whole place look inviting and spacious. Downstairs we have a kitchen, a living room, and a powder room in the hallway. The first floor has two bedrooms and a bathroom whereas the top floor is a loft converted into two bedrooms and a toilet. The house also has a backyard and private drive, which we are very thankful for. School runs are easier from our location and being able to witness sunsets from my bedroom window is a treat that I never take for granted.
I am a nocturnal renter hacker, content creator, and owner of a small family business launching this month. I sell meaningful art prints as an ode to human emotions in my online shop, The FAFF Store. I also run an interiors account on Instagram where I share my rental DIY hacks to add color to a rental property without damaging the walls under the name @ThePajaamaHub. The purpose of the account is to share ideas to morph that hollow feeling of a "borrowed house" into a "narration of your dream home." I am very grateful for the encouragement I always receive from offline and online friends.

Apartment Therapy Survey:My Style: I am a borderline maximalist, admirer of eclectic style, and lover of classic aesthetics. This is the very reason I am forever trying to create a happy balance of cohesion and complication in my interiors. Living in a rental property means I often have to tinker with unusual design ideas and DIY hacks fueled by midnight creative juices. My home is very much a fusion of my personality, beliefs, and travels all woven into one, keeping the comfort of my family as my top priority.
Inspiration: I soak up inspiration from wherever I can get it like a sponge and entwine it into a version of my own.
Favorite Element: The living room, which is the heart of our home. It is the room where we have had a number of birthdays, sofa snuggles, Monopoly wars, and Netflix marathons. It also has my most favorite gallery wall in the house. It really tells our story laced with a bit of fun.

Biggest Challenge: I love life in technicolor but my rental doesn't allow paint or wallpaper on the boring magnolia walls. Sigh. I love bold colors. Peel and stick wallpapers are a bit pricey or limited in designs. Injecting color in my rental home without damaging the walls was one of my biggest challenges. I used some bonkers ideas to create a colorful space in every room. Of course, one needs to be well aware of the rules governing their rental property, therefore, I always do a patch test first before starting any project. You would be surprised to know that every wall responds differently because of its texture, position, and temperature so a patch test is a must. Styling a space isn't fun when you have restrictions but I am proud to say that I have made it a sanctuary of saturated hues.
Proudest DIY: With all honesty, I have a long list of them. First is the duvet cover wall mural hack. I opened the seams of a duvet cover and using wallpaper paste I stuck it to the wall to create a mural. I used watercolors on the whole backdrop, which makes it look like an authentic painting. I am very pleased about how it turned out.
Another favorite of mine is the painted vinyl arch, which is totally removable in Teen Z's room who is a Golden State Warriors fan. I used a clear self-adhesive book cover film, stuck it to the wall, carved the shape of an arch, and painted it yellow as a nod to his favorite team. The inspiration for the arch was taken from the fabulous Grillo Designs . Since I cannot paint the walls much as I would have loved to, I made it renter-friendly by making it removable.
I also love the mural I have hand-painted in my bathroom on blackboard vinyl using acrylic paints. I first spotted the design on Pinterest and later found out that it was by the wonderful Kate on Instagram. I added some personal elements to it such as the glyph used to represent a woman and the initials of my family.

Biggest Indulgence: The Suzani Print Bath Button Back armchair by Graham & Green. The power of textiles is very strong in my eyes so I saved and saved to buy this exuberant piece. I adore the bones of it.
Is there something unique about your home or the way you use it? By now you might have established my luke-warm relationship with the magnolia walls. I have tended to them with love using eight different hacks. Every wall that I have transformed has been done using a different technique each time. It is been a labor of love, surprise design hacks, crazy tester pot journeys, and at times self-doubt. I have started to think of them as a blank canvas for me to transform.

What are your favorite products you have bought for your home and why? My collection of lamps and throws. I am forever shuffling them from room to room when things get boring to change and refresh the mood.
Please describe any helpful, inspiring, brilliant, or just plain useful small space maximizing and/or organizing tips you have: Be smart when buying furniture and opt for pieces with built-in storage or go for a frame that would allow you to place items and storage baskets underneath. You can even make them look aesthetically pleasing. Also, look at the unusual spots in your home to add shelving units; you might be surprised at finding some lucrative spots that were just going unnoticed. I had a little nook in my living room getting wasted with a large photo frame on display. In order to maximize the space, I made a shelf using discarded drawers from an old IKEA Malm cabinet. It now houses trinkets from our travels, books, and extra blankets.
Finally, what's your absolute best home secret or decorating advice? Don't be scared of making mistakes while discovering your core style. It is a journey. You might make some wrong choices along the way but they will help you zero in on your truest decor personality.
Go with your gut.

This house tour's responses were edited for length and clarity.