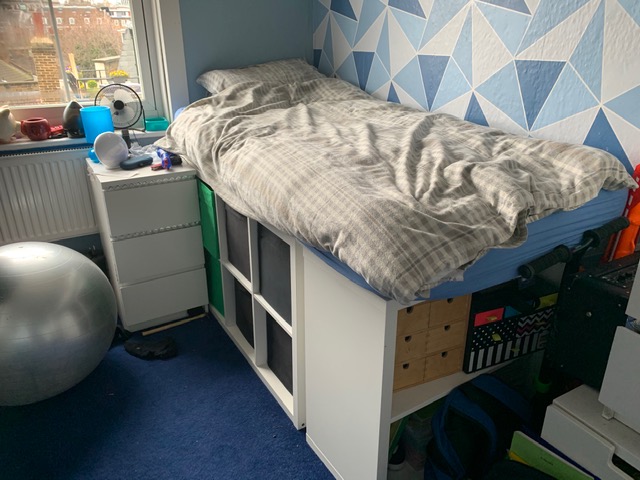 Our teenage son is 6 ft. 2" and still growing. We wanted a teen bed that has storage and could fit a custom length mattress to suit his height.

After seeing many IKEA hacks for beds made using KALLAX, I decided this would be our project as we have many of these units at home.

I was expecting to do this a bit different and thought I would need a hardboard top for under the mattress. However, this was not the case as the mattress is very thick and it stays in place.


In the end all I needed for this project was :

2 x KALLAX 2×4 unit1 x KALLAX 2×2 unit DRÖNA insert boxes (I already had lots of fabric box inserts so just used up the ones I had available)
We laid the 2×4 units side by side and 2×2 unit at the foot end.

For the KALLAX 2×2 at the end of the bed, we did not assemble it with the middle vertical shelf, so we could fit things larger than the cubes in there.


Then, we placed the mattress on top to see how this would look and it fitted perfectly. 

We now have a teen bed which is a perfect length for our son.

It's quite high but it's just the right height for our son. 

We have lots of storage and lots of hidden storage, we keep all of our camping gear tucked away in the back section. It is easily reached by just pulling out the boxes from the front.


Financially, this project cost me only the price of the new mattress as we already had the KALLAX units and fabric boxes.

~ by Dawn


You may also like these KALLAX bed hacks
A full-sized bed built from KALLAX shelves + a DIY headboardKallax Storage Bed and Malma HeadboardFull size bed frame with storage hack — no tools required!

The post Sam's extra tall, extra long teen bed appeared first on IKEA Hackers.