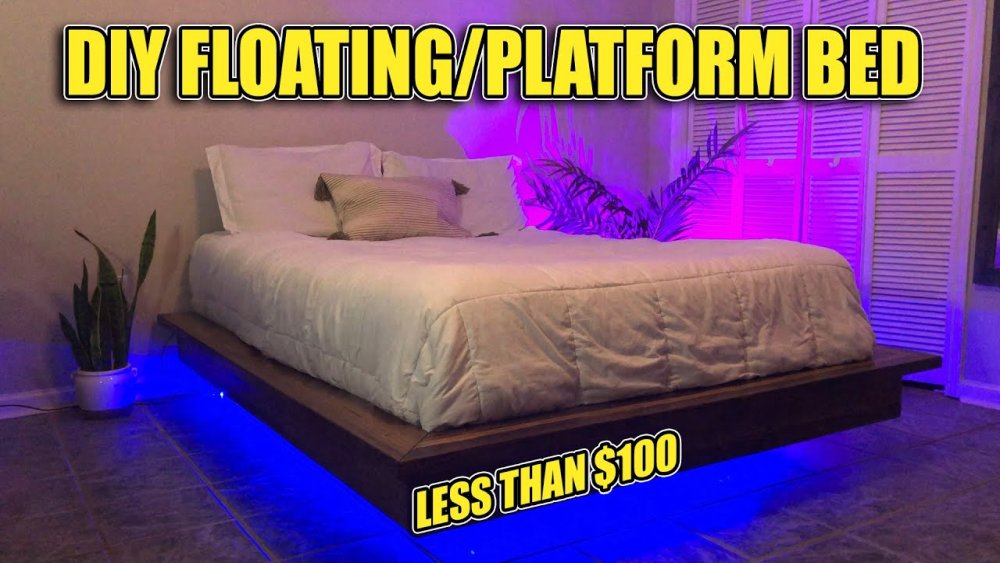 Looking to add an extra bed to your home or to replace the old one? Why not build the frame for it yourself? It's not overly complicated even though it is a big project. There's a variety of different types and styles to choose from but we really like the look of floating bed frames because of how sleek and simple they are. That being said, check out the tutorials below if you want to find out more about how you can build a floating bed frame from scratch. 
View in gallery
This video tutorial by C_Love1 shows you the entire process of putting together this floating bed frame, from start to finish. What's special about it is the fact that it has these built-in LED strips that really help the bed stand out and give it a super modern and interesting look. The ambient lighting is perfect for a space like the bedroom. 
View in gallery
There's several steps that you need to go through when making a floating bed or any type of bed frame for that matter. The first one is the planning phase and this is important because it's the moment when you get to decide the precise measurements and overall design of your frame. Put it all on paper and make drawings and sketches that can help you visualize the design. Then all the other steps follow and you can find out all about it in this tutorial from instructables. 
View in gallery
Wood is the go-to material for most furniture-related projects so you can count on it being a good fit for this as well. The tutorial shared by Stud Pack explains how you can use regular framing lumber to build the entire frame for this queen-size bed. In the description, you can find a list of materials that have been used for the frame as well as a detailed description of the building process broken down into steps. 
View in gallery
There's obviously a variety of different designs that you can choose from for your new DIY floating bed. This one has a very clean and simple look, being really great for a contemporary and minimalistic bedroom. The floating bed frame is wider and longer than the mattress which is nicely centered on top of it and there's also a headboard which extends to the side and has floating nightstands attached to it. It's a complete package. Check out the plans and tutorial shared by DIY Creators for more details.
View in gallery
If you want a bed frame that's truly looking as if it's floating and isn't just giving you the impression that it is, we definitely suggest this design shared by HomeMadeModern. The main difference between it and a bunch of the other ones on this list is the choice of materials. This bed frame is made out of steel 1" square tubes as opposed to wood. That allows it to be super sleek and small while at the same time being very durable and allows it to actually be floating. The frame is attached to a live edge cedar headboard and looks absolutely fantastic. 
View in gallery
You might also enjoy the floating bed frame design shared by SeoulBOY which has a very clean and modern vibe. It's made out of wood which can be stained of painted in order to match a room's decor and theme and it's both very sturdy and aesthetically-pleasing. The attached headboard and floating nightstand shelf suit this design perfectly. You can find the plans in the video description. 
View in gallery
If you're a fan of accent lighting or you want to add some ambiance to your bedroom, try incorporating LED lights into your floating bed frame design. The colored lights add a really cool effect and would suit a room decor that's modern. clean and simple. The tutorial from Carpenters Dream DIY goes over these little details and also explains how the actual wooden frame is made from start to finish. 
View in gallery
It looks super simple which is usually a defining characteristic for a lot of floating beds. It also has a sturdy platform and a headboard to match and there's plenty more going on underneath the mattress. There's quite a bit of detail in this DIY floating bed design by Carlo Ray so if you want to see the inner parts and everything that's hidden from view, be sure to check out the full video tutorial.  
View in gallery
Making a bed frame from scratch requires plenty of lumber and that's usually something you can easily get from your local hardware store. While you're there, also get the screws and a wood finish of your choice. It would be best to have a miter saw so you can cut all the board to the right length but if you don't perhaps the store can assist with that. Check out the cut list and all the other details in this tutorial from instructables so you know exactly what needs to be done. 
View in gallery
This floating bed frame design from lifebuzz is very compact, no bigger than it actually needs to be. That's really great if you have a small room or if you don't necessarily want the bed to always be the focal point. For those times when you do want it to stand out however, this one has embedded LED lights that add a glowing effect from below. 
View in gallery
This floating bed from uglyducklinghouse is sure looking super cozy and even though it's pretty big and solid it maintains a lightweight appearance. That's actually the beauty of floating beds in general. It has a very sturdy frame and base and you can find out all about the design and building process in the full tutorial in case you'd like to build something similar for yourself. 
View in gallery
You can pretty much build an entire bed frame in just one weekend if you're actually in the mood to do so. To make it all easier, this tutorial from howtospecialist gives you a complete list of everything you're going to need for this project so you know exactly what to get from the hardware store. You can also find a bunch of useful tips in this tutorial that will make the whole project more manageable.