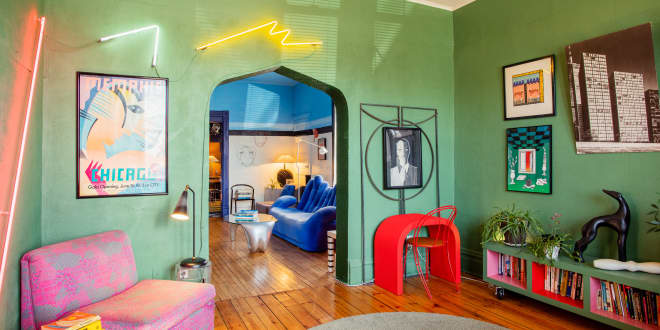 Name: Meg Gustafson, my cat Annie, and sometimes my boyfriend Jonathan.
Location: Bridgeport Neighborhood — Chicago, Illinois
Size: 1,400 square feet
Type of Home: 1885 Workers' Cottage
Years lived in: 2.5 years, owned

Meg Gustafson, who by day works on parks and open space for the City of Chicago Department of Planning & Development, thinks her obsession with 1980s style started with music, specifically "Chicago House, Italo disco, and synth-pop on Thursday nights at Neo. The music video set design must have seeped into my soul," she explains. "When I started the '80s deco Tumblr back in 2013, I had no idea Memphis would make a comeback, but it makes sense that the minimal MCM trends would swing the other way. I started the page for my own research, and my first '80s apartment was featured in AT in 2015."
Meg purchased her most recent home, this 1885 workers' cottage located in Chicago's Bridgeport neighborhood, two and a half years ago, and she's spent the time since transforming it into a truly incredible, one-of-kind space. "I always loved Bridgeport and was excited to find a brick house (on wooden stilts from when the streets and houses were raised) in my price range," she describes. "There were layers: '70s carpet, damaged linoleum, and office style drop ceilings, but they were easy to look past. All workers' cottages ooze charm. Since 2013 I've been having tons of fun running an '80s interior design page. I also rent the house for music videos and photoshoots via Peerspace, which you can see by using the hashtag #80sdecobridgeport on IG."
Meg has completed a ton of work on this house in the past two and a half years, but unfortunately she plans on selling it at the end of the year. She and Jonathan are planning on moving into another house. "Don't worry, we have some big weird design plans!" she reassures.

Apartment Therapy Survey:My Style: Eclectic '80s maximalism
Inspiration: Late '70s and early '80s interior design books by Terrance Conran, Mary Gillatt, and Karen Fischer. Designers Alessandro Mendini, Nathalie Du Pasquier, Memphis Group, Duggie Fields, Dan Friedman, craft and folk art through the ages, mid-2000s Vaporwave renderings, Pedro Almodovar films. Fave design Instagram accounts include: @alexpwhite, @casacalle_, @press_sf, @disco_art_deco
Favorite Element: The dining room is the moodiest, weirdest room in the house. The navy blue paint is the highest gloss you can buy that isn't lacquer (which is highly toxic and better left to a professional) It's based on an '80s Martin Dupont music video. The Tibetan rug is my best Craigslist score to date. I bought the large tapestry/painting at an antique store in Niles, Illinois. It depicts the Italo-Ethiopian war, which secured Ethiopia's independence in 1896 and is frequently depicted in folk art. The illuminated column came from a basement full of 1950s Christmas decorations in Oak Lawn.
Biggest Challenge: One big challenge was the walls. I found many layers of wallpaper over damaged plaster and stucco. I decided to paint over all of it, with the exception of my bedroom, which I left raw and painted a Le Corbusier-style deep red ceiling. High quality paint is a magical thing.
Proudest DIY: Transforming the enclosed porch to a dramatic "pass through Vaporwave room" with peel and stick "Carrera" marble tile was fun and challenging. The oversized triangle painting and Caesar bust were sourced by my friend Andy Alguire @riverotterchicago.
Biggest Indulgence: The Mario Botta chair, which I got for relatively cheap on Craigslist, but it's a legit designer piece, which I don't do very often.
Is there something unique about your home or the way you use it? I'm happy with the TV room in a spare bedroom. It's cozy and gets very dark and the TV isn't prominently displayed in a main room. I also like the guest room where I wrapped a red abstract shape onto the floors and ceiling.
What are your favorite products you have bought for your home and why? The tube lights in the Vaporwave room are a fave (from Hay).
Please describe any helpful, inspiring, brilliant, or just plain useful small space maximizing and/or organizing tips you have: There's a weird leftover pantry (which also has a trap door to the basement) from when the house had two units. I was reluctant to use that space for kitchen storage because it's two rooms away, but it's a fine place to keep larger kitchen appliances out of sight and frees up space for more well-used items.
Finally, what's your absolute best home secret or decorating advice? I love to mix and match eras and styles while sticking to a strict color theme/palette. I try to buy quality items and if they don't work, I resell them. Splurge on expensive paint with primer included: It will save so much time in the number of coats. A fun twist is to mix very chalky finishes with high gloss paint. My other secret weapon was my friend and designer Amber Mortensen who came to Chicago in mid-January to help out.
Sarah Crowley
Contributor
Sarah Crowley is an interiors, food + lifestyle photographer living in Chicago. When she's not taking pictures, Sarah is likely out and about trying new sandwiches around the city with her fiancé, Jeff.