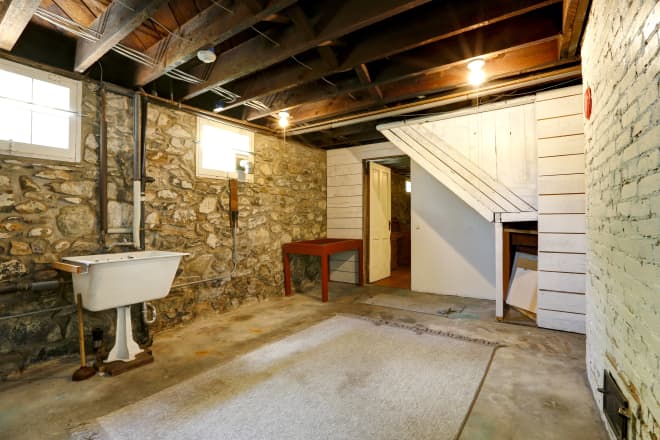 The only thing that might be better than a classic home makeover: All the friendly and innovative faces from a variety of HGTV series coming together to compete on one show. It's an overload of expertise, in the best possible way.

Ty Pennington — who recently finishing up the first season of his own new show on the network called "Ty Breaker" — hosts the second season of "Rock the Block," where celebrity home designers are paired up and given a budget to complete the best home renovations, which are then evaluated by a panel of judges. And in this week's episode, viewers were taught a valuable lesson on how basements aren't just places to store old clothes — they can seriously up the resale value of a home.
Here are the top tips the designers used to make the most of their basement spaces that could help you cash in big time, plus two things to avoid.

Convert it into a separate unit.With just a few tweaks and layout decisions, the basement can be its own separate space for a future renter. To accomplish this, ensure there's a small kitchenette, a bathroom, and a way to exit the basement without going through the main floors. On the show, many of the designers integrated at least two bedrooms into basement layouts without much extra work or money.

If you plan on renting it out yourself before putting it on the market, consider this: before you picture a stranger living on the floor below you, think about whether a family member may want to rent the space. You may need a mother-in-law suite in the upcoming years, or if you have a college kid and his friend who would prefer this option to the dorms.
Beloved designer Mike Holmes taught everyone his trick on knowing where to spend extra money on a basement: storage options. He always chooses custom cabinets because he can utilize vertical space and create more storage, which is always a welcomed feature for future homebuyers.

While you wait for your house to sell, imagine your grandma's dishes placed in that dusty box, getting to see the light of day and hang out in those custom basement cabinets. They deserve that much!
The pandemic has opened everyone's eyes to the need for versatility in spaces. People who might potentially buy your house in the future would love to see rooms that can double as other rooms — basements that can easily be offices, basements that can easily be playrooms… the list goes on and on. Maybe adding a Murphy bed down there isn't the worst idea.
One of the designers put all of their eggs in one basket and opted for a bowling alley basement — and it sure made the home memorable. While that particular example isn't super feasible for everyone, you can give your basement a fun theme, or do something wild like making the centerpiece a painted ping pong table you renovated from a garage sale. The basement is the perfect place to play with these out-of-the-box and seemingly over-the-top ideas, and it just might make your home more memorable than some of the other ones people are touring.
The designers quickly learned from the judges that two things don't work well with making a marketable basement: crazy colors (a pink and gold basement, anyone?) that alienate future owners, and basement carpet. Some families like to send their kids downstairs, and as a judge explained, carpet gets "trashed quickly" with kids running on it. Opt for hardwood or laminate flooring instead.
To see more tips from designers on "Rock the Block," check out new episodes airing on Mondays at 9/8 central on HGTV.